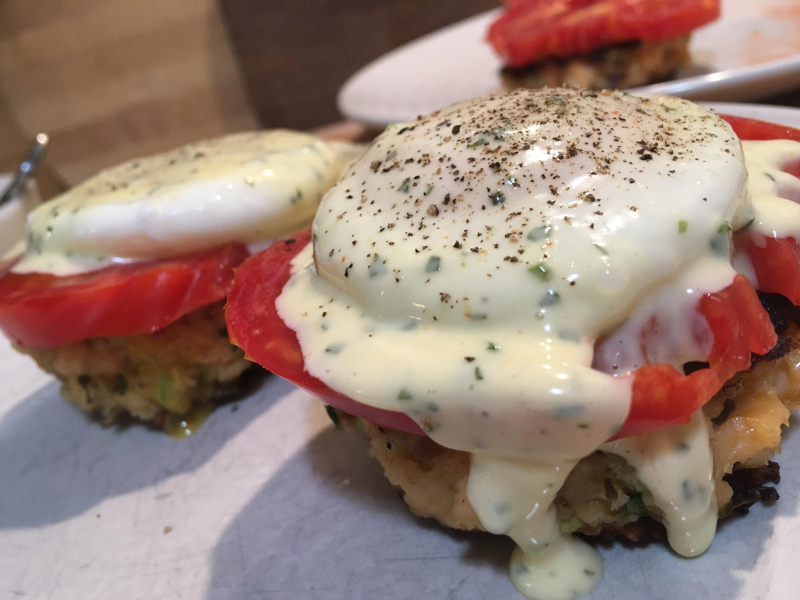 Eggs Benedict From Scratch, Your Way
with Amy Church
$1000
Do you go crazy for the classic eggs benedict served at your favorite brunch restaurant? Learn how to make it at home without the wait for a table and the $15 (or more) pricetag...you'll have more money to spend on a bottle of bubbly for mimosas! 
In this virtual class, you'll learn how to make perfectly poached eggs and a rich, delicious hollandaise sauce from scratch. Then, we'll discuss all the options for you to personalize your benedicts to make them perfect for you and your family. Use your creativity to infuse your hollandaise with different flavors; or choose different meats or breads to venture away from the classic. For example, in the picture above, I've made homemade salmon cakes as the base, topped them with a slice of garden tomato, and flavored my hollandaise with tarragon to pair with the salmon cakes.
I'll include a recipe for crispy smashed roasted potatoes to pair with your benedicts. If potatoes aren't your thing, a simple green salad is always a nice choice.
Notes:
This class is still being held at dinnertime so everyone can join in, but hey, who doesn't love breakfast for dinner? Take what you've learned and use it to make yourself brunch some other time.
I'll be using an immersion blender to make the hollandaise from scratch in seconds - my preferred method. If you don't have one, you can also use a regular blender. I'll also briefly discuss making hollandaise by hand with a whisk, but it won't be demonstrated.
Oct

15th

,

2020

from

6:00 - 7:00 pm

Will run
Virtual Class
(503) 363-1612
333 Chemeketa St NE
Salem, OR 97301 Get directions