Filter by Category
Our Classes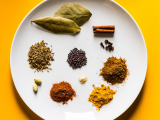 Bengali Fish Curry with Carrot-Daikon Salad
with Amy Church

Jul 16, 2020 at 6 pm
I tried a lot of new recipes while the store was closed, and this was one of our favorites. This delicious homestyle curried fish is made in the style of the state of Bengal, in the eastern part of India. It is easy to make and doesn't require any unusual or hard-to-find spices. You'll be amazed at the depth of flavor you can get in such a short cooking time. The curry sauce uses yogurt rather than coconut or butter, which keeps it light and healthy. The curry has a medium-hot spice (heat) level, but can easily be adjusted to all tastes by adding or leaving out chiles.
To pair with the curry, we'll also make a refreshing grated carrot and daikon salad. Add a pot of basmati rice and you have an impressive full meal!
Will run
Teriyaki Salmon with Sesame Brown Rice and Baby Bok Choy
with Amy Church

Jul 30, 2020 at 6 pm
This is, hands-down, my spouse Aaron's favorite weeknight meal that I make regularly. He loves it because it's delicious, healthy, and has all his favorite flavors. I love it because it's easy and impressive.
You'll learn how to make traditional Japanese-style teriyaki sauce from scratch, which is so much lighter and better than the Americanized version. We'll use that to cook an outrageously juicy teriyaki salmon. On the side, I'll show you how to make brown rice so it turns out perfectly every time without even measuring; plus, we'll steam some baby bok choy to go with it.
**Please note: If you recently took my Japanese cooking class in March 2020, the teriyaki sauce itself is similar to what we learned in that class for teriyaki chicken. However, it's not quite the same and the cooking technique for salmon is definitely different. I'll leave it up to you whether you want to take this class as well. It is not the same, but it is similar.
Will run
Coctel de Camarón (Mexican Shrimp Cocktail)
with Amy Church

Aug 13, 2020 at 6 pm
I've scheduled this one for August in the hopes that it will be really hot outside. You see, we don't have AC at my house and I really dislike the heat. This is my absolute #1 favorite go-to meal to make when the heat is too much to bear. It is so refreshing and I really do think it's true that eating spicy foods cools you off. Don't worry, though - you can adjust the spice to your own taste.
The only cooking required is a very quick poaching of the shrimp - in fact, you could even get pre-cooked shrimp and not have to turn on the stove at all!
If you've never tried Coctel de Camarón, you're in for a treat! It is savory, tangy, spicy with a hint of sweetness - it really hits all the taste buds. Unlike American shrimp cocktail, the seafood is stirred into the delicious tomato-based salsa full of fresh, crunchy vegetables, which really allows all the flavors to combine nicely. It's almost more like a gazpacho than a cocktail. Garnished with rich avocado and served with tortilla chips or soda crackers - wow, my mouth is watering just typing this description! It's the perfect light meal paired with an ice-cold cerveza - I can't wait! 
**Please note: I taught a version of this recipe way back in 2016 in a class titled "Cool Kitchen Dinners". This recipe will be similar but not exactly the same. I like to give folks a heads-up so they don't accidentally repeat without realizing it.
Will run